Multipot Laser - tt532 - Mobility and connectivity
The TT 532 is a fully featured multispot integrated laser. TT excels in performance thanks to its functional and modern design – all of its components have been carefully integrated in the table, provid- ing a robust operation and sturdy feeling.
Using the highest quality components Meridian reserves its best laser cavities for the premium laser range.
We have carefully partnered with the top ophthalmic industry manufacturers to in- clude in our multispot range the absolute best quality components from Switzerland and Europe. Meridian's propriety scanning systems feature the fastest galvanometers on the market, assuring perfect patterns and laser quality at all times, these systems me- ticulously integrated in our facilities, provide the best and most stable integration platform combined with Haag-Streit slit lamps.
TT range peripheral fibres and cables are enclosed for their protection, and all the electronics are carefully guarded inside a dust-free aluminium case.
Designed by European retinal specialists, TT range offers a high level of practical and relevant features:
Retinal projection: laser settings, laser power, pattern selection, size and rotation can be observed through the oculars without the need of removing the eyes from the binoculars. Maximising the efficiency of the surgeon when is performing the treatment.
Our proprietary smart wheel controller makes the laser operation fast, easy, and Intuitive.
All laser parameters (e.g. power, pattern, duration) can be swiftly modified using the smart wheel or through its touch screen.
These advance features help to speed up the treatment time and reduce patient chair time.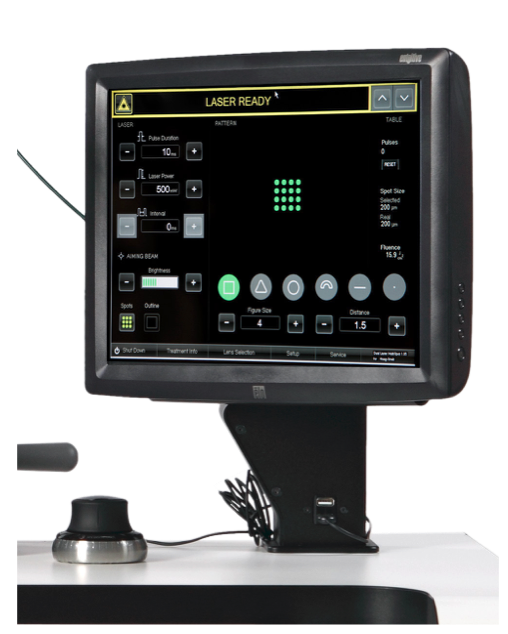 Technische Spezifikationen
Laser Power
3000 mW, restricted to 2000 mW
Patterns
Square, Circle, Arc, Sector, Line, Spot
Pulse Duration
10 - 650 ms
Slitlamp
Haag-Streit BQ 900 or CSO SL 9900
Spot sizes
50, 100, 200, 300 and 400 μm
User interface
15" Touch screen mit Smart Well